Explore Social Media and Sage CRM
My last couple of posts have dug into the main features in version 7.2 of Sage CRM. In this article I want to discuss the connection between social media, Sage CRM and getting a return on your marketing efforts.
Getting involved in social media can at times be rather daunting. This is a product of two simple questions – "What do I want to do?" and "How do I do it?" I often find that companies want to apply some piece of social media to their marketing, but the deliverable is a far cry from what was originally mapped out on the white board. The failure of social media projects can often be attributed to the lack of project control (scope creep) and a general lack of project continuation which really hampers the ability to gain a positive return on your efforts. It's great to set up a Facebook page but if you never monitor it or add new content to it, then you have nothing but a tired old billboard and its usefulness as a communication and customer engagement tool drops off very quickly. The big problem is that when you really do want to use that channel, there will be no one watching or listening because your content is stale.  Your audience stopped paying attention long ago. To be successful with social media you need to provide content that is useful to your customers and to make sure that there is steady stream of new content to keep them coming back for more.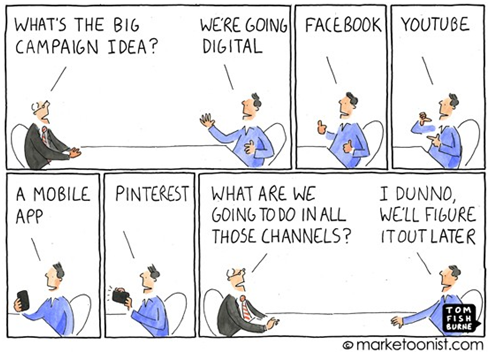 When starting out with a social media project, it can be really hard to narrow down what you should do because there is so much out there you can do. Have a realistic plan and don't bite off more than you can chew. If you don't think you can keep the information coming on regular intervals in multiple channels, focus your efforts to only one or two social mediums. Sage CRM is a great help here because it gives you a couple of very easy to use tools that will get you accessing your customers and prospects via social media very quickly. You can use three of the larger social media tools out there – Facebook, Twitter and LinkedIn – with Sage CRM.
Social media can take on many different styles with each format having a possible business use. The product team at Sage CRM picked Facebook, Twitter and LinkedIn because of their large network size (each has a huge number of active users) and the fact that each tool was of a different style (broadcasting or social network). They built the hooks into the product so that you can be off and running very quickly, driving a social media marketing program almost immediately.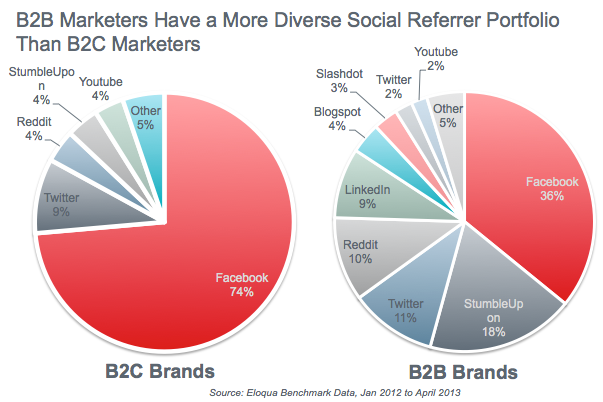 Depending on what type of business you run, your use of social media products will be different. The chart above is shows just how different B2B and B2C marketing activities are when it comes to social media. Companies everywhere are using popular social media networks such as Facebook, Twitter and LinkedIn to make their business more accessible, more personable, and to maintain long term connections. The information you gather from these social interactions can then be pulled in and used in your CRM system to establish new business and improve relations with your existing customers.
Sage CRM has created an integration with LinkedIn® that enables your marketing and sales users to tap into a vast business oriented social network that gives almost instant insider knowledge about customers and prospects.
Another tool that Sage CRM utilizes is Twitter. Twitter is an excellent broadcast tool and the Twitter component allows you to manage and monitor your social communications with your contacts directly from within Sage CRM – very powerful stuff. Twitter, when used correctly, can help you build better brand awareness. It can also help you become far more proactive and responsive to both positive and negative feedback. You are also able to link these "tweets" back to your customer or prospect record in Sage CRM – it is as easy as linking an email. When you combine these easy to use social media components with your ability to surface RSS and website feeds directly into your interactive dashboards to monitor social networks and websites like Facebook, you now have a powerful social media communication and monitoring tool, all of it in Sage CRM.
So remember Sage CRM and its social media components when you are planning to make your entrance into social marketing. You can start out slow or get brave and dive a little deeper into the social media pool but make sure you have realistic goals, expectations and the resources/time. But most importantly, make sure you leverage Sage CRM because it can be a real "life-saver" in driving positive returns on all your marketing efforts.