Learn about Sage CRM Customization Tools for Developers
We are beginning to get more and more questions about version 7.2 of Sage CRM from our customers and prospects. This means that, as a team, we have to start preparing and investigating the improvements in the latest version specifically involving customization and third party product development.
For me, it all started earlier this year, while I was still with Sage. I was sitting in a product training session held by Jeff Richards (one of Dublin's CRM Gurus). He was training a group of developers and myself about the technical enhancements of version 7.2 that would be, in Jeff's words, "handy" to developers. As I am a person who crashes software not develops it, I was expecting to be able to follow along but not really get excited by what I saw and heard. After all as the Product Manager I was there to pull out any nuggets I could re-use in my other duties. As the session went on, there was a real buzz in the room that got more intense as the developers really started to engage with Jeff. I could tell that what Jeff was showing was really going to be of some value to them.  I closed the lid to my laptop so email was not a distraction, and began to pay attention to what was getting the developers excited! There it was, the Client Side API.
As I listened to Jeff interact with the developers, the one feature that seemed to get them really jazzed was that the client side API was going to make their lives a whole lot easier. Wouldn't we all like that! I listened a little more closely to try to figure out how this was going to make this group of developers happier and it seemed boil down to one thing – reducing code production. The API is a simplified and specialized set of code libraries that would allow developers to create screen customizations very easily and reduce the amount of coding they have to do.
I was hooked. Easier to code and less work, it was a product manager's dream. Easier and faster, think of what I could put on the roadmap! So I was really paying attention now to the conversation of how they could use this to improve the Sage 100 ERP integration to Sage CRM. Lots of ideas were tossed around among the team members and after seeing the Beta of the new integration between Sage 100 ERP and Sage CRM 7.2 it seems that the development teams have put the client side API into very good use. I was told by a team member that they reduced their code base on screen customizations in the integration by more than 70%. That is fantastic optimization, which will only help stabilize and add to the performance of the code around screen customizations. There is quite a lot of this type of code in the ERP integrations.
Now that I am with Azamba I have to look beyond the Sage ERP integrations and investigate how our team can utilize this tool in their day to day development work. Our developers at Azamba are very talented and do amazing things, but if there is a tool that can make life easier – we need to embrace it. The API is based on JQuery syntax so an in-depth knowledge of JQuery is not required (but it can't hurt). Using the client side API is also easier than full JavaScript because the developer doesn't need a complete understanding of the underlying screen structure. This makes it easy to extend it to custom content through the creation of a custom set of functions and script libraries. What I really like is that you can start to embrace the power of the client side API just by opening up a JavaScript console in a browser – and off you go. Be sure to check out Jeff Richard's blogs on the Sage CRM Community site as he many technical articles on how to utilize the client side API in real world situations.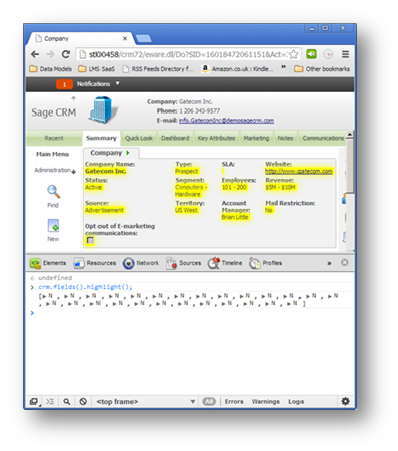 So make sure you check out these and the other new features in version 7.2 I think you will be thoroughly impressed.