Review projects and priorities at end of year in Sage CRM.
Keep your business projects and priorities in Sage CRM. Create reports and dashboard widgets to track and review progress. Review at end of year.
With the year drawing to a close I feel like a freight train is bearing down on me and I am tied to the tracks, just waiting for it to hit. I try to keep a "top 3 items to do" lists for both business and person projects. Sometimes these prioritized lists get to be a top 6 or 7 items to complete, but I try to pare them back so that I can keep focused. Be it with work projects or those never ending house projects. In my house, there always seems to be a wall to patch and paint thanks to errand hockey sticks and pucks.
When it comes to work, I like to review those lists regularly, especially at the end of the year, to see what I actually did complete. The review process helps me to create and set up the plans for the next business cycle – especially for marketing planning and product roadmaps. When I look back it seems that some years I got much more done than in other years. It all depends on the hurdles that had to be overcome to complete the projects.
I try to keep all of my business projects and priorities in our CRM. This allows me to create reports and dashboard widgets, using Sage CRM to track and review my progress as well as planning for my next business cycle (quarterly or yearly). This is where I love the new version of Sage CRM. When 7.1 was released a couple of years ago the charts and dashboard widgets in the interactive dashboards were updated using a third party set of charts/widgets called Fusion Charts. With the release of 7.2 earlier this year the team at Sage expanded the selection of available Fusion charts which could be used in Sage CRM by developers building out customizations. These new charts really add to the dashboards and reports making them feel newer and cleaner (see the image below). These new chart types really help me to create nice fresh reports that resonate with the members of our team.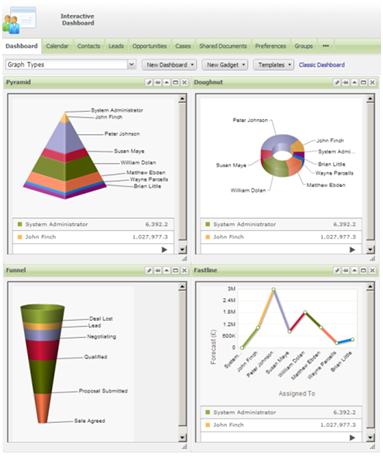 Sage also updated the Report Designer in 7.2 adding the ability to clone a report right from the UI of the designer. This makes it really easy to create a series of reports for different groups of people. Now I create good looking reports, making slight variations in them depending on the audience and with the push of a button quickly clone them and then update as I need to.
So as the year draws to a close and you are wrapping things up or finalizing plans for next year remember to take advantage of these great new reporting tools in version 7.2. When you combine the new Fusion charts with the other new features in Sage CRM – mobile sales for iPhone and Windows 8, Facebook and Yammer integrations, plus other enhancements, you have some pretty compelling reasons to move to the latest version of Sage CRM.