What the Core Productivity Bundle will do for you
Maintain close, quality communication with your customers by providing your salespeople with the automation tools in the Azamba Core Productivity Bundle.
CRM is most valuable when using automation tools that keep your salespeople informed and proactive. If you aren't using Microsoft Dynamics 365 Sales to automate any of your business processes or set reminders for your team, you aren't maximizing the value of your CRM investment!
The Azamba Core Productivity Bundle automates repetitive but important tasks that might otherwise fall through the cracks when left to people who can get busy, get sick, or simply forget to follow up. It also sets reminders to ensure your team know what they need when they need it.
Those tasks and reminders add up, and over a long enough timeline they can make or break your customer relationships. Properly automated, they always get done, so your customers learn that you are consistent and dependable.
The Core Productivity Bundle by Azamba is available for standalone purchase, or free to OnTrack Premium and Preferred customers!
The Core Productivity Bundle includes: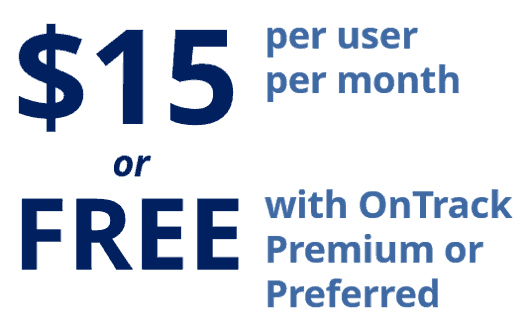 Automatic Follow-up Tasks
Save data entry time and never fail to follow up when you use Automatic Follow-Up Tasks!
Without Automatic Follow-Up Tasks, your team first needs to create a task, set a date and time for that task, and save and close it—and then create a second, totally new follow-up task, note it as a follow-up, set a date and time for it, and save that task as well.
Automatic Follow-Up Tasks eliminate the hassle and turn a two-step process into a one-step process. Each task now includes a follow-up field. All your team needs to do is schedule their follow-up activity in the field, and once they save their first task, the follow-up will be automatically generated.
That means follow-up appointments, tasks, and phone calls get created and added to your team's schedules automatically, instead of requiring tedious, duplicate data entry.
Automatic Phone Number Formatter
Save data entry time and keep your contact numbers easy to read and use when you use the Automatic Phone Number Formatter!
Without the Automatic Phone Number Formatter, your team needs to format every single contact number they enter into Microsoft Dynamics 365 for Sales. This can lead to inconsistent or even incomplete contact information.
But with  the Automatic Phone Number Formatter, you'll always see the full phone number formatted the same way every time.
All your team needs to do is enter each number as they usually would, but without any periods, hyphens, parenthesis, or other formatting marks.
The Automatic Phone Number Formatter will format each phone number automatically, making it easy to see and correct errors, and preventing inconsistent or unusable contact info.
Birthday Manager
Wishing your contacts a happy birthday is a simple but effective way to show care and attentiveness, and can contribute to building stronger relationships.
But the more contacts you have, the more likely you are to miss a birthday every now and then.
The Birthday Manager ensures you'll never miss a birthday again. You can send automated birthday emails using our default template, or by customizing your own birthday greeting. Just enter your contact's birthday on their account summary and the Birthday Manager will do the rest!
Credit Hold Alerts
Are your salespeople tired of hunting to find out whether an account is on credit hold—or worse yet, only finding out about credit holds after a sale gets bounced back by accounting?
With Credit Hold Alerts, your sales team will know any payment issues with their accounts BEFORE they try to make another sale. They can then inform their customers when there is an outstanding balance, and potentially help resolve accounting issues that could otherwise go unnoticed by a purchaser.
All your accounting team needs to do is check the "credit hold" box on an account. That account will be flagged as delinquent, and the color over the account name will change to one of three colors (your choice!), so your team always knows about any credit holds as soon as they access a flagged account record.
Email-to-Case Creator
Save time and stay ahead of your competition by allowing your customers to create support tickets 24/7/365 with our Email-to-Case Creator!
Eliminate the need to manually key in or copy/paste support ticket information, and enable your customers to interact with support outside of business hours. Just set up a simple web form that sends all submissions to a single customer service e-mail address of your choice. The Email-to-Case Creator automatically creates cases for your customer service team to follow up on.
Your clients will receive an automated, customizable response letting them know you've received their ticket request and giving them important information about the support process, showing them just how important they are—and how attentive you are!
Last Core Activity Date Tracker
Maintain close, quality communication with your customers by tracking your most recent contact dates and types using the Last Activity Date Tracker!
Without the Last Activity Date Tracker, you need to sift through all your activities manually to determine your most recent touchpoints and contact types for an account or contact. This method is time consuming, frustrating, and prone to error.
The Last Activity Date Tracker eliminates all that extra tedium and uncertainty by displaying the most recent task, phone call, email, and appointment dates, as well as the last contact date of any kind, directly from your account and contact forms and views.
You can use this information to assign tasks to members of your sales team, create marketing lists and strategies, and maximize the efficiency and effectiveness of your communication activities.
Note Hider
Keep sales activity information easy to find and report on while saving valuable storage space with the Note Hider add-on!
Consistent information and cohesive reporting are critical in CRM. If you have a mix of notes and activities, your team won't always know which to report on or where to check for information on a record. Notes also don't sync up to your mobile device as tasks or appointments, which can be a big liability for mobile users.
With the Note Hider, you can simply hide the Notes tab to avoid accidentally splitting up important activity information in your system. Your sales team can still do their jobs easily and efficiently whether they're in the office or on the road, all while ensuring management remains in the loop.
Hiding notes will also prevent users from attaching files to notes, which can eat into your CRM database storage limits. Your team can instead leverage the low cost of integrated SharePoint storage for attaching those files. You save money without losing functionality or creating extra work for your team.
Pop-up Notifications for Accounts
Never miss important account info again when you use Pop-up Notifications for Accounts!
Is there something your team needs to know before interacting with an account? Maybe you have an account whose daily hours vary, or whose contact person is touchy about names or titles.
Forgetting these important details can lead to mis- or missed communication, or sometimes even sour a relationship. Don't let important information go unseen again!
With Pop-Up Notifications for Accounts, you can set a message to appear in a pop-up window every time a user attempts to access the associated account record. That information must be acknowledged before proceeding to the full account view.
For example, you might note "Closes at 3pm on Fridays," or "Do not call owner Don; insists on being called Donald."
It's super simple, and will keep important relationship information front and center whenever your team views or contacts an account.
Web-to-Lead Creator
Streamline your lead generation and prevent leads from falling through the cracks with the Web-to-Lead Creator!
Without the Web-to-Lead Creator, you probably receive an email notification when you get a web-generated lead. Someone then needs to check that email and manually key a new record into your CRM for follow-up.
Not only does this approach take extra time and effort, but your leads can sometimes languish unnoticed in inboxes or get entered incorrectly.
The Web-to-Lead Creator keeps your leads from falling through the cracks, ensures your lead records are entered correctly, centralizes those records, and enables you to setup workflows or other follow-up automations easily.
Just set up a simple web form to gather the information you need for a new lead. You can use our default form, or customize one to fit seamlessly into your website or landing page design.
Microsoft Dynamics 365 Sales Add-on Bundle Order Form
To order, fill out the form below and we will contact you shortly to discuss your needs.
Or call 888.724.3999 to speak to an Azamba representative directly.