New Sage CRM Mobile Device Support
Explore New Sage CRM Mobile Device Support with This Deep Dive into Mobility
In my last article, I covered the key enhancements to version 7.2 at a pretty high level.  This time I want to explore the mobility features in 7.2 in more detail for you.   Everyone requires access to their customer contact information on their mobile device.  Most of the time we would like access to our sales and customer service information as well.  Sage CRM has always been a product that allowed users to be mobile with its earlier versions of the product supporting some of the first "smart" phones like the Blackberry Curve and the early Windows mobile devices.  The mobile device marketplace has changed a lot in the last few years and iOS and Android devices have all but taken over the mobile world.  It looks as though the focus of Sage CRM's new mobile strategy will be the iOS and Android platforms until the next disruptive technology arrives.
With version 7.2, three really important mobility features were released.  The first was full support for Apple's iPad.  Before 7.2, the iPad was only beta or non-production.  The second key mobility feature is the Sales Lite app for the iPhone.  The third is an app for the Windows 8 platform called Sales Tracker.
So let's start with the biggest device, at least by screen size, the iPad.  With version 7.2, the iPad is now fully supported.  There are two ways to use the iPad with Sage CRM.  You can access Sage CRM by either the typical Desktop View or by what Sage is calling the Default Tablet Version.  The Default Tablet Version is designed to look more like typical iPad applications.  If you want to use your iPad just like your laptop or desktop, then the Desktop View is the one you will want to use.  If you prefer a look that is less cluttered or don't need all the details or tabs in CRM, then the Tablet Version is what you want – see the image below.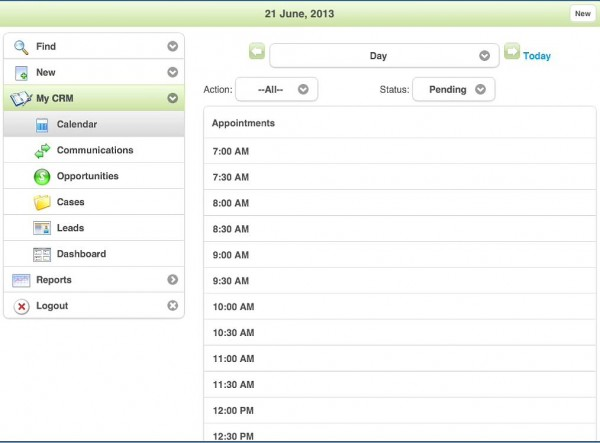 A real big plus for getting the iPad working with Sage CRM is the ability to connect to and view the data that lives in your back office.  So if you have a Sage 100 ERP installation and any of your team wants to use Sage CRM to see their customer's order history or payment history on their iPad, you now can with the help of the Greytrix GUMU software!   No need for a bulky laptop when calling on your customers, get those important details literally in the palm of your hands.  What about if you want to have your sales people in the field complete quotes or orders while at a customer's location?  You can now as well, but for this you will need to use the Desktop view of Sage CRM because there are more details needed to complete the order which the other view doesn't provide.  But again, no need to have that bulky laptop on site!  The image below is from the Desktop View on an iPad, sure looks like the regular desktop, only smaller, but now supported thanks to 7.2.
All the iPad stuff is excellent and exactly what many people are looking for.  However, what we all really need is our Sage CRM customer data while we are not connected to the internet. Is this possible?  It is now with version 7.2.  The new Sage CRM Sales Lite for iPhone app will give you access to your data and your tasks and appointments regardless of your cellular or web connection status.  Finally!  Because Sales Lite is a true iPhone app, it lets you take advantage of many of those native iOS features like mapping for your appointments.  You can also track and log your outbound communications like calls, emails and even SMS texts.  The best thing about the app may be the price.  It is free and available for download at the Apple App Store.  Just type in Sage CRM and look for the free Sage CRM Sales Lite.  For set-up instructions you can find a detailed set-up guide here.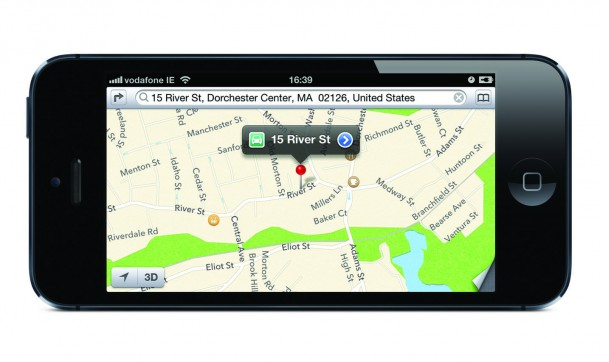 The last new mobility piece for 7.2 is the Sales Tracker for Windows 8.  Like the iPhone app, the Sales Tracker is platform specific and designed for your mobile Windows 8 users who need access to their data on the road.  It will give you access to your Company, Person, and Opportunity records even if you don't have connectivity.  This app allows you to get at the details of your opportunities by building a watch list which allows you to focus in on important companies, their people and the associated opportunities.  To find this, you need to go to the Windows 8 App store and look under Free Business Apps.
So make sure you check out these features in version 7.2, as I think you will find them very useful.  You can find more about them on the Sage CRM community.  If you have questions about this or anything else around Sage CRM please feel free to contact me or anyone on the Azamba team.
Photo by David Haas