How To Configure Sage 100 2013 Sage CRM Server Options
The newest version of Sage 100 2013, aka 5.0, has a new and improved interface for integrated companies in Sage CRM. Connecting Sage CRM 7.1 SP2 and above with Sage 100 2013 does not include many steps, but sometimes determining the values for each field can be tricky. Let's put any questions to rest by going through the fields and options.
Integration Server Name – This is the server name on which Sage 100 2013 is installed.
Integration Port ID – You can determine the Port ID by going to Control Panel | Administrative Tools | Services | Find the serviced called "Sage 100 ERP Integration Engine…". Within the parentheses on this service the port number is specified. Enter that value as the Port ID.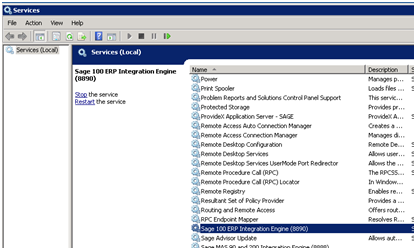 Sage 100 ERP User Logon – Use the lookup button to designate a Sage 100 user to connect CRM to MAS. Ensure that the proper level of rights that a user will need to access Sage 100 information via CRM is granted.
Sage CRM SQL Server Name and Database Name– You can find these values by logging into Sage CRM and navigating to Administration | System | Database Behavior.
Sage CRM Web Portal Address – This is the full URL that you use to access Sage CRM.
Sage CRM SQL Server Login – Enter the system administrator username (usually called SA) and password in order to properly access the Sage CRM database OR if your SQL server allows Windows user to authenticate using integrated logon you may check the box and not enter SA credentials.
Allow Changes in Sage CRM to – The checkboxes in this section designate whether changes to companies that are related to Sage 100 (customers with Sage 100 customer numbers). You may designate for example that changes can be made to contacts in Sage CRM so that the user can enter their Title, etc. However, you may decide to not allow changes to any addresses in Sage CRM that are accounting related.
Log Activity – This section designates which information is included in the integration log files. It is recommended that all of these boxes remained checked.
After all of the fields are populated and values are set based on your organization's policies, click on Load Sage CRM Data. If all of the connection parameters are successful, you will see the process complete. Click Accept. After a successful load of Sage CRM data you are ready for the population of data and the relating of data (keep checking Ignite for future Sage 100 2013 / Sage CRM articles).
Photo by David Haas
To learn more about Sage CRM-ERP integration, contact us today!