Discover Dashboard Guru, Business Intelligence for Sage CRM
Need Better or More Business Insight?  Take a Look at the Dashboard Guru
In the last few months, we have been getting requests for a more robust business intelligence tool that works with Sage CRM. Many of them feel that the interactive dashboards that come out-out-of-the-box with the product are great for showing basic "snapshots" of your business. But they are really missing the ability drive actions beyond visualization. How can CRM users analyze and take action on what they see in the interactive dashboard widget? They can't. The interactive dashboards in Sage CRM are just not currently designed to handle this important need.
Enter the Dashboard Guru by Technotropic. Technotropic is Azamba's sister company with a focus on creating productivity tools for Sage CRM. The Dashboard Guru is a great example of the quality Sage CRM add-ons that Technotropic creates. It is designed to complement, not replace, the existing dashboards in Sage CRM.
Dashboard Guru works in real time to identify trends and issues that could be dragging your team's performance down. It will allow you to aggregate information from multiple data sources – your ERP, data warehouse, CRM or other data source.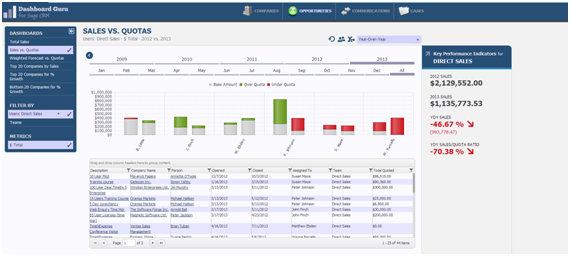 What really makes Dashboard Guru stand out is its ability to let users do additional and specific analysis on what they see in the dashboards and then bring those findings back to Sage CRM so action can be taken. With just one click, Dashboard Guru exports the dashboard information right to excel for further analysis. Even more important is the ability for you to take action on what you have seen and analyzed. Again, with a single mouse click on the "Grouping" icon you can create a static group in Sage CRM. Giving you a contacts list that will allow you to follow-up with the companies and people that make up the dashboard data. Just imagine that you sell a product that needs follow up every 90 days. With Dashboard Guru you can have a dashboard created for you by the team at Azamba that would pull all the sales of that product from your ERP. Then, as required you would be able to create a group in Sage CRM that would show you the most recent customers that need contact. Just refresh the dashboard and re-save the group and you have a new list of customers to contact. No more asking for advanced SQL queries from your IT people and then trying to import data back into Sage CRM. The best part? You never left Sage CRM to do any of this.
Data security is always a concern when dealing with business intelligence tools. The Dashboard Guru has been designed to follow the Sage CRM security model. This means if your user's Sage CRM profile does not allow them to view or access certain data, they will not be able to see or access that information through the Dashboard Guru.
One of the most important features of any dashboarding tool is its flexibility. Dashboards need to be customizable because people like to view their information in many different ways. Dashboard Guru is extremely flexible and has various filters and chart options which can be configured to allow information to be sorted and presented in many different ways.
Make sure you don't miss out on the value that the Dashboard Guru can deliver to you and your team. It can quickly transform your data from a collection of information just sitting in various applications and computers to a significant and valuable company asset. To find out more just watch the quick product introduction and overview video.