Discover What's New in Sage CRM
Just a few weeks ago the latest version of Sage CRM, version 7.2, was made available here in North America.  The newest version of Sage CRM is very focused on helping you communicate with, to, and about your customers. Mobility and Social Media are two important and popular subjects in today's business world and this is reflected in version 7.2 of Sage CRM.
By leveraging the social features in Sage CRM version 7.2, you obtain new methods of talking with your customers and prospective customers.  Social tools like Twitter, Facebook, and LinkedIn help you to uncover new leads and networking opportunities.  This takes the buying conversation right to your customers rather than waiting for them to come to you.   The Twitter and LinkedIn add-ons were available for a little while before the release of 7.2.  The Facebook add-on is brand new with Sage CRM 7.2 and was designed to help you to better understand your customers by pulling their Facebook profile right into CRM and giving you the ability to link it directly to their account details.  The social media add-ins really allow you to personalize your marketing and customer service programs, taking them to a new level of sophistication.   If you are interested in using these social media tools then head to the  Sage CRM Community and download them for FREE!
With version 7.2, there is also a social-style team collaboration tool which is powered by Microsoft's Yammer.  Everyone who uses Sage CRM in your company can now use Yammer right in Sage CRM to discuss and collaborate about opportunities, customer service cases, and more.  These collaboration threads in Yammer really help to make the ongoing business conversations with and about your customers transparent and visible to everyone in your company.
What about if you want to take it on the road?  Then what happens?  Well, version 7.2 has new mobile Sales "apps" for both the iPhone and the Windows 8 phones, which just adds to the already impressive mobile lineup for Sage CRM which includes support for Android devices and the iPad.  If you or anyone in your company travels and needs on or offline access in real-time to their Sage CRM contacts and opportunity records make sure you look at the Sales Lite for iPhone or the Sales Tracker for Windows 8 devices.  These apps are available on the iTunes and Windows Store, respectively.  The best part of all is that just like the social media tools, they are free for you and your teams to download and use, all you need is version 7.2.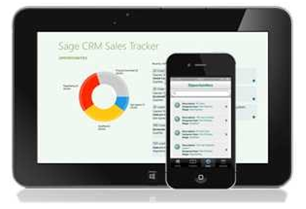 And if that is not enough, there have been enhancements made to the reporting areas within Sage CRM so you can take advantage of some new, cool 3D charts.  These charts are generated without using Flash so you can even pull them up on your iPads and other non-Flash devices.
In my next few articles, I will dive into each one of these core features in much more detail, so stay tuned!